Helpful Tips For Your Winter Expedition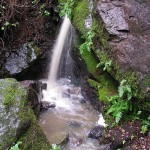 Waterfall on South Sylvan Trail
The dampness and cold of winter are upon us. Yet, you shouldn't let the change in weather keep you from taking a hike. County Parks are open each day of the year and are ready for you to enjoy. Any outdoor venture requires some planning and consideration of the weather and trail conditions. Park rangers offer the following tips for fun and safe visit:
In this season, apparel should consist of long-sleeves, layers and appropriate sturdy, closed-toe shoes.Come prepared for weather changes and bring a change of dry jackets, socks and shoes.
Wet trails can be slippery, especially when covered by leaves. Take precaution and reduce walking and jogging speeds.
Be aware that the park closing time changes seasonally. Check the posted time near the park entrance before you begin your hike.
Please use designated trails at all times.
Be aware that poison oak is present all year. In winter, the plant shows bare, orange, near-right angle stems and a branching pattern rather than the recognizable green leaves.
Heavy rains can cause muddy conditions and a rise in creek levels. Remaining on trails prevents sediment from entering creeks and reduces hazardous effects on fish and other water organisms.
Carrying drinking water is always recommended.
Always leave natural features where they grow, live and lie.
Ranger Recommended Hikes
There is no doubt that Sam McDonald and Pescadero Parks, located in Loma Mar near the coast, are wonderful summer destinations. But these parks present special winter features, including small waterfalls on Fall Creek (Portola Trail) and Towne Creek (Pomponio/Brook Loop Trails). Most of the falls are produced by water that collects in dry gullies that then drop approximately 100 feet into streams. These spectacular sites can be tempting to experience up close. However, stay on designated trails as creek levels can rise quickly during and immediately after rain storms. At the Pescadero Creek, many foot bridges are closed during the rainy season, so be aware of signs indicating closed creek crossing.
The mid-County Parks are also home to flowing creeks and waterfalls in the winter and early spring. At Edgewood Park and Natural Preserve in Redwood City, the south Sylvan Trail features a waterfall between six and 10 feet tall. At Huddart Park, stroll along Richards Road and catch a peek of water filling and moving along the West Union Creek. At Wunderlich Park in Woodside, one can get away from the trickling waters by escaping to the "The Meadows", an open field of grassland where a glimpse of the sun is your reward after the two-mile hike up the Alambique and Meadow Trails.
On dry days take a drive to the coast and walk along the shoreline at Mirada Surf West or Pillar Point Bluff. The antics of diving pelicans or surfers' acts of bravery riding the ominous waves at Maverick's are great diversions. Crystal Springs Regional Trail often has special visitors at the Sawyer Camp Trail segment. Bald eagles stay from Christmas to early March. Last winter a mating pair was spotted across the Crystal Springs Reservoir nesting. It's a good idea to bring a pair of binoculars to spot various types of birds. Plant lovers can appreciate how the wintry weather brings out various fungi.In the late winter wild flowers bloom starting with Hound's Tongue and followed by Douglas Iris on many San Mateo County trails.